Appointment: Appointed to the Board in May 2013
Experience: Mr Leuschen is a Founder and Senior Managing Director of Riverstone. He is based in New York. Prior to founding Riverstone, Mr Leuschen was a Partner and Managing Director at Goldman Sachs and founder and head of the Goldman Sachs Global Energy and Power Group. Mr Leuschen joined Goldman Sachs in 1977, became head of the Global Energy and Power Group in 1985, became a Partner of that firm in 1986 and remained with Goldman Sachs until leaving to found Riverstone. Mr Leuschen has extensive mergers and acquisitions, financing and investing experience in the energy and power industry.
Mr Leuschen was responsible for building the Goldman Sachs energy and power investment banking practice into one of the leading franchises in the global energy and power industry. During this period, Mr Leuschen and his team participated in a large number of the major energy and power merger and acquisition transactions worldwide. Mr Leuschen also was a founder of Goldman Sachs' leading master limited partnership franchise. Mr Leuschen also served as Chairman of the Goldman Sachs Energy Investment Committee, where he was responsible for screening potential capital commitments by Goldman Sachs in the energy and power industry and was responsible for establishing and managing the firm's relationships with senior executives from leading companies in all segments of the energy and power industry.
Mr Leuschen also serves on the boards of directors or equivalent bodies of a number of portfolio companies in which Other Riverstone Funds have investment interests. Mr Leuschen is a U.S. resident.
Committee Membership: None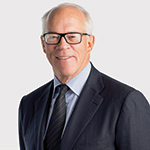 David M. Leuschen
Non-executive Director