Appointment: Appointed to the Board in May 2013 and appointed as Senior Independent Director in May 2016.
Experience: Mr Firth qualified as a Chartered Accountant with KPMG Guernsey in 1991 and is also a member of the Chartered Institute for Securities and Investment. He has worked in the fund industry in Guernsey since joining Rothschild Asset Management (CI) Limited in 1992 before moving to become Managing Director at Butterfield Fund Services (Guernsey) Limited (subsequently Butterfield Fulcrum Group (Guernsey) Limited), a company providing third party fund administration services, where he worked from April 2002 until June 2009. He is a non-executive Director of a number of investment funds and management companies, including India Capital Growth Fund Limited, CT UK Capital & Income Investment Trust plc and NextEnergy Solar Fund Limited. Mr Firth is a UK resident. 
Committee Membership: Audit Committee Chair; Nomination and Remuneration Committee Member; Management Engagement Committee Member.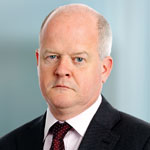 Patrick Firth (61)
Non-executive Senior Independent Director