Appointment: Appointed to the Board in September 2013.
Experience: Mr Barker was California Chairman of JPMorgan Chase & Co., a global financial services firm, from September 2009 until his retirement on 31 January 2013, and a member of its Executive Committee in New York. Mr Barker was also an Advisory Director of Goldman, Sachs & Co. from December 1998 until his retirement in May 2002, and a Partner of Goldman, Sachs & Co. from 1982 to 1998, heading up Investment Banking on the West Coast, having joined Goldman, Sachs & Co. in 1971. Mr Barker is President of the Fletcher Jones Foundation and has held numerous directorships. He is currently on the board of Avery Dennison Corporation, the W. M. Keck Foundation, the Irvine Company, and the Automobile Club of Southern California. Mr Barker is also a Trustee of Claremont McKenna College, having formerly been its Chairman, and was previously Chair of the Los Angeles Area Council of the Boy Scouts of America. Mr Barker is a U.S. resident.
Committee Membership: Audit Committee Member; Nomination Committee Member; Management Engagement Committee Member.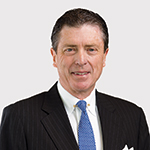 Peter Barker (73)
Non-executive Independent Director