Appointment: Appointed to the Board in May 2013
Experience: Mr Lapeyre is a Founder and Senior Managing Director of Riverstone. He is based in New York. Prior to founding Riverstone, Mr Lapeyre was a Managing Director of Goldman Sachs in its Global Energy and Power Group. Mr Lapeyre joined Goldman Sachs in 1986 and spent his 14-year investment banking career focused on energy and power, particularly the midstream, upstream and energy service sectors. Mr Lapeyre's responsibilities at Goldman Sachs included client coverage and leading the execution of a wide variety of mergers and acquisitions, IPO, strategic advisory and capital markets financings for clients across all sectors of the industry.
While at Goldman Sachs, Mr Lapeyre served as sector captain for the midstream and energy services segments, led the group's coverage of Asian energy companies and was extensively involved in the origination and execution of energy private equity investments on behalf of the firm. Mr Lapeyre was responsible for managing Goldman Sachs' leading franchise in master limited partnerships. He was also asked to lead the group's agency and principal investment effort in energy/power technology. At Goldman Sachs, Mr Lapeyre had relationship and deal execution responsibilities for a broad range of energy clients.
Mr Lapeyre serves on the boards of directors or equivalent bodies of a number of portfolio companies in which Other Riverstone Funds have investment interests. Mr Lapeyre is a U.S. resident.
Committee Membership: None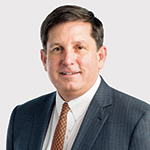 Pierre F. Lapeyre, Jr.
Non-executive Director