Appointment: Appointed to the Board in May 2013 and appointed as Chairman in May 2016.
Experience: Mr Hayden serves as non-executive Chairman of TowerBrook Capital Partners Advisory Board and member of the Investment Committee. Prior to joining TowerBrook in 2009, Mr Hayden was Vice Chairman of GSC Group Inc and Global Head of the CLO and Mezzanine Debt business. Previously, Mr Hayden was with Goldman Sachs from 1969 to 1999. Mr Hayden held a variety of senior positions during his time at Goldman Sachs, including Deputy Chairman of Goldman Sachs International Ltd and Chairman of the Global Credit Committee. Mr Hayden has served on a number of corporate and advisory boards including CQS Capital Management, Haymarket Financial, Deutsche Borse and Abbey National Bank. Mr Hayden is currently on the Finance and Investment Committee of the Children's Investment Fund Foundation. Mr Hayden is a UK resident.
Committee Membership: Audit Committee Member; Nomination Committee Member; Management Engagement Committee Member.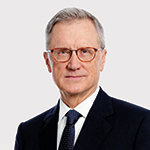 Richard Hayden (76)
Chairman and Non-executive Independent Director