Appointment: Appointed to the Board in December 2022.
Experience: Mr Roche qualified as an Irish Chartered Accountant in 1988 and immediately joined PwC's predecessor firm, Coopers & Lybrand, in Guernsey.  During his career, he was seconded to the investment management practices at PwC Ireland (1996-1998) and PwC UK (2003-2008) and was promoted to Partner in 2006, before returning permanently to Guernsey in 2009.  Mr Roche recently retired with a strong background in auditing as well as IPO and capital markets transactions for investment companies on the various London markets.  He has focussed on delivering audit services to alternative investment managers, specialising in private equity, secondaries, private debt, infrastructure and real estate in the listed and private sectors. Mr Roche was PwC's Risk Management Partner (2008-2015), Partner Responsible for Independence/Ethics & Business Conduct (2008-2015 & 2018-2022), as well as the Guernsey Office Managing Partner (2013-2020). He also served as President of the Guernsey Society of Chartered and Certified Accountants (2013-2015).  Mr Roche is a Guernsey resident.
Committee Membership: Audit Committee Member; Nomination Committee Member; Management Engagement Committee Member.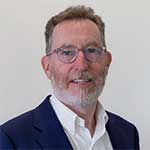 John Roche (57)
Non-executive Independent Director