Appointment: Appointed to the Board in May 2023.
Experience: Karen A McClellan is a finance professional, clean tech investor and board member focusing on worldwide decarbonization. She has two decades of hands-on experience in carbon policy, clean infrastructure finance and zero-carbon technologies, having raised and deployed more than £700 million in renewable energy and carbon funds and transactions. Until recently, Ms. McClellan led climate-related investing (new propulsion and carbon offsetting technologies) for The Lemos Group, a Greek shipping family. She is an advisory board member of TT International's Environmental Solutions Fund and serves as an appointed expert for the UK Accelerated Climate Transitions program, on the Global SDG Council for Alternative Fuels, and on the Climate Tech Council (London).
During two decades as an investment banker at Lehman Brothers, Robert Fleming and the EBRD, Ms McClellan structured investment funds backed by emission reductions and energy savings, and served on their investment committees. She authored the EBRD's inaugural carbon strategy and was its first representative at UNFCC COP negotiations in 2001; since then, she has attended numerous UNFCC COPs, including those resulting The Kyoto Protocol and Paris Agreement. As Head of Asset Management, Carbon Capital Markets, Ms. McClellan and her team were shortlisted for an FT Sustainability Award. Other roles included special advisor to the CEO of a UK hydrogen fuel cell company and member of the Panel of Experts (ex-Chair) for the International Renewable Energy Agency.
Ms. McClellan has contributed to textbooks on climate markets and risk and is a frequent speaker and panelist.  She holds an MBA from Stanford Graduate School of Business and a degree in Economics from Yale University. 
Committee Membership: Audit Committee Member; Management Engagement Committee Member; and Nomination and Remuneration Committee Member.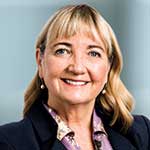 Karen A McClellan (63)
Non-executive Independent Director