In July 2021, REL purchased $10 million of Decarbonization Plus Acquisition Corporation ("DCRB") (NASDAQ: DCRB) common stock in a private placement transaction (the "PIPE") at $10 per share, which closed concurrently with DCRB's previously announced merger with Hyzon Motors Inc. ("Hyzon" or the "Company"), the industry-leading global supplier of zero-emissions hydrogen fuel cell powered commercial vehicles. REL invested in this PIPE alongside existing and new investors, including blue chip institutional investors.
Hyzon, headquartered in Rochester, New York, is a differentiated, pure-play, independent mobility company with an exclusive focus on hydrogen in the commercial vehicle market. The Company's proven and proprietary hydrogen fuel cell technology enables zero emission, fleet based, commercial transport at competitive performance as measured against both traditional fuel sources and other alternative vehicle power sources. Through its partnerships with market-leading suppliers and manufacturers, and the Company's commercial relationships with retailers, consumer goods companies, natural resource firms and governments, Hyzon has rapidly expanded its commercial reach with supply agreements to customers around the world. With a demonstrated technology advantage, leading fuel cell performance and a history of rapid innovation, Hyzon is catalyzing the adoption of hydrogen heavy vehicles.
Find out more on the Hyzon website.
Hyzon Motors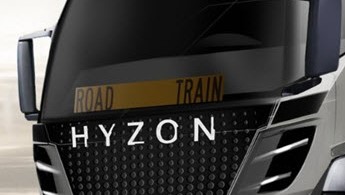 See more here